Why Choose EKAN Concept's Customizable Wooden Boxes
Our Process
Every box we produce follows EKAN's five-step process from concept through to delivery, backed by a 100% satisfaction guarantee.
Your Concept
We start with a conversation to understand your concept and needs. This will ensure we produce a box that is perfectly tailored to your purpose, product and price point.
Design
We take you through the design process, selecting premium materials, finishes and accessories. We can apply your existing branding or custom-design one for you.
Manufacturing
We have over 25 years of experience in manufacturing and produce every box in house on state-of-the-art equipment. We produce the highest quality product to your specifications.
Delivery
We will deliver your product safely and securely on or ahead of your timeline using the most cost-effective method.
Guarantee
Satisfied clients are the backbone of our business. From production to delivery, we offer a 100% satisfaction guarantee.
Explore Our High-Quality Products
Volume Custom Wooden Boxes
At EKAN Concepts, we work with you to create wooden gift boxes that suit your product for any occasion. We have the expertise to custom-design your packaging, whether you're looking for sliding or hinged lids or cylinder, chest, or oval shapes. All our creations are made with durable, eco-friendly materials. Build your box today!
We use FSC-certified materials and hand-finish each box to perfection. Along with this sustainable choice, you can customize your wooden box to match your brand and offer a "wow" factor for your customers, whether you desire laser engraving or hot branding of your logo or personalized message.
As industry leaders in sustainable packaging manufacturing and over 25 years, we have perfected our processes to bring you the best craftsmanship. We have the tools and expertise to make precise cuts — within 0.005 inches. We also finish every box by hand and inspect them to meet the highest standards as part of our satisfaction guarantee.
We promote sustainability with eco-friendly materials and practices. We ensure that our boxes can be reused and repurposed, helping our planet eliminate plastic packaging waste. As part of our mission to give back, we partner with Trees for the Future — one tree is planted for every box sold.
Request a Quote
Individual Wood Gift Boxes
We use cutting-edge technology to achieve high-quality engravings for your individualized box, whether it's for a special gift or a small handful of products. We'll work together to ensure your box exceeds your standards and requirements. Customize yours today!
With over 25 years in this industry, we've perfected the art of sustainable, custom-made wooden boxes. We use the highest-quality, FSC-certified materials and can customize the design for various uses, whether you need multiple compartments or unique lids. The construction of each box ensures long-lasting durability.
With EKAN Concepts, we hold ourselves to high standards. Each box is cut with precision tools, and we have years of talent to inspect and finish each one before you receive it — it's part of our 100% satisfaction guarantee!
We are leaders in the industry of eco-friendly packaging and manufacturing. We hold ourselves to sustainable standards by using FSC-certified materials and environmentally-conscious processes to help reduce our carbon footprint. We partner with Trees for the Future to create a greener world: For every box sold, one tree is planted.
Request a Quote
Testimonials
Amazing service. I requested custom DVD style boxes and the team helped with suggestions to make a better final product. They are incredibly quick with replies and prices beat all other Ontario quotes I received. Highly recommended!
The quality and personalization of their products is great! The staff are also very friendly and professional.
sal maiolatesi
2018-12-07
Beautiful workmanship extremely professional staff! Highly recommended!
Personalization – Make it one of a Kind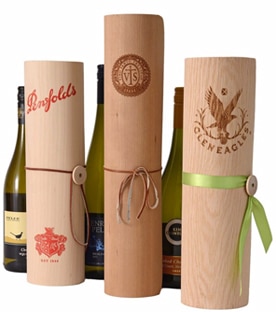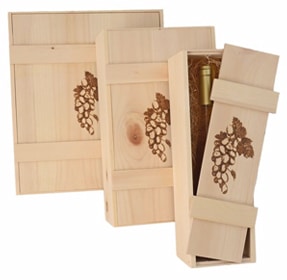 Frequently Asked Questions
It all comes down to the wood. These customized wood boxes are made with the highest-grade natural wood materials available. They are also built with superb craftsmanship, precision engineering, and hand-finished to ensure they deliver the perfect presentation. The added features including dovetail joint corners, insert dividers, finger-pull closures, and full edge lid concealers provide an elegant look and feel that creates a one of a kind experience for the recipient.
If you would like to order one of our box designs online, our build your box page can help. You will be directed to a page to choose your wood type, box style, graphic design, and any extras available that you'd like added. You can also add a personal message to be engraved on either the inside or outside of the box with this feature. Once you're done personalizing the box, click on "complete my purchase" and then fill out the address, payment and shipping details. It's that easy!
Yes, we can build custom boxes of various sizes to meet your exact dimensions, making it the perfect choice for your favourite champagne or specialty bottle of wine. Contact our team today to discuss your specific needs.
Yes, we can! If you're not entirely sure what you need or whether your artwork will be suitable for your box, contact us directly and our team will be happy to assist you in designing it.
FSC Certified is the designation for wood that is harvested from forests that meet the highest environmental and social standards. All of the boxes we make come from materials and fabricating processes that are environmentally responsible and FSC certified.
We ship nationwide across Canada as well as throughout the USA.
Small orders of our individual wooden boxes are normally sent out within 2 to 3 business days from ordering and can take up to a week for delivery. If you're ordering a custom box design or placing a larger order, the lead time may take longer. Our team will always provide you with an estimated time of arrival and with the tracking information once your order has left our facility.
Product FAQs
Pricing will vary based on the style, size and features of your box, as well as the order volume. With these few key details, we can provide you a customized quote in no time. You can submit your request for a quote via our website, by calling us or by sending an email.
We have a minimum order of 30 boxes for volume orders. We also offer individual wooden wine boxes for smaller orders. We'll be happy to discuss your available options when you contact us.
Of course! We have two options available to you.
Option one: A generic overrun sample is available to you free of charge. This sample will not be to size, but will demonstrate the quality of our work and the box style.
Option two: A custom sample is also available. This custom sample will demonstrate the quality of our work and the box style, but it will also be made-to-size so that you can see exactly what your final product will look like. Custom samples are available for a $100 fee, with 50% refundable upon placement of an order. Custom samples can also be engraved.
Absolutely. We ship orders to the United States daily and do not have any customs issues.
Yes, we offer both laser engraving and branding on our products.
All of our boxes are produced at our facility in Huntsville, Ontario, Canada.
Our wooden boxes are shipped in 24" x 17" x 14" boxes for smaller orders and on pallets for larger orders. Shipping can be arranged by us, or if you have a preferred shipper we will be happy to work with them. Shipping costs will be added to your order.
You have many payment options, including Visa, Mastercard, American Express, cheque and e-transfer. We do not accept PayPal.
All artwork must be submitted in black and white vector format in either pdf of eps format. Laser engraving is available up to a maximum size of 6" x 6". Branding is available up to a maximum size of 8" x 10".
Images are burnt onto each box, creating a beautiful and elegant appearance. This burning process does not allow for colour engraving. Our website offers many photos to show you the many ways engraving and branding can be used to enhance a custom wood box.
Lead times vary depending on order size and complexity. We will be happy to discuss lead times with you. We appreciate that our clients sometimes work under tight deadlines. So whenever possible and necessary, we make a rush order service available for clients who need it.